Taxi / Limo Onboard Mobile Video Security Camera

3 Types of Taxi / Limo Surveillance
Windshield Mounted Accident Camera Event Recorder
Taxi & Limousine Surveillance Security Camera Observation System
Live View Taxi & Limousine Surveillance Security Video Camera System
Windshield Mounted Accident Camera

In these systems, a very low-cost consumer product not originally intended for commercial in-car surveillance is incorporated to gain basic information about the driver's activities. These systems are primarily accident cameras or Event recorders that have been set up to record constant vehicle activities, not just the events. Due to their basic event recorder platform, many have built-in "G" sensor accelerometers, GPS mapping, and a forward-facing camera, as their original design application was to record the road in front of the vehicle and not necessarily what was going on in the back seat.
In the right application, such as on your vehicle, or one your children may operate, these systems provide an excellent value to the owner, and I not only praise these units in text, but I have had several in my vehicles for the last ten years, and they have proved invaluable in documenting what happened and not what others may have imagined in some delusion of wishful thinking. The lower cost SDC5 seems to be the best unit for personal applications as an accident event recorder in personal applications. Insurance companies may offer you discounts in your annual premiums if they are permitted the use of the video data files in case of an accident so that they may use this video evidence to defend their client, you, in court if needed.
Advantages:
Very low cost, some available for less than $100
Installs in about 60 seconds
Disadvantages:
No security for memory cards on most models
No security for power plugs on most models
No security of GPS antenna plug on most models
Easy for criminals to steal
Easy for the driver to tamper with
May block driver vision violating US DOT laws
The obvious weakness for a small, fragile contraption that hangs from a suction cup or small mount from a windshield is a near-total lack of security, both from driver tampering, which can be relentless, and from external forces who may have reason to destroy evidence of a crime.
Driver tampering on these systems is both widespread and easy, and the number of damaged systems we received for service in such a short period caused us to permanently removed these systems from any serious fleet applications as they have demonstrated no value to fleet customers who are trying to monitor their drivers, as their drivers quickly found several simple ways to defeat the product, from removing the SD cards, unplugging the GPS antenna, unplugging the power plug on the unit, pointing the camera where it would not record any usable images, or pulling the unit hard enough to cause the fragile mounting system to fail, so it falls off the windshield.
Taxi Cab Security Surveillance Camera System
A low-Cost mobile video solution for those who seek a simple solution.
The SD4FHD is the low-cost 1080P-AHD High Definition mobile video solution version of a Taxi camera system or Limousine Camera system. The small high-resolution cameras (1-4) are separated from the mobile DVR and can be positioned where needed to provide a much better vehicle camera coverage. The 100% solid State mobile DVR memory card is secured via a key lock to protect the SD memory card from driver tampering and criminal assaults. This version provides 1080P-AHD High Definition images and long record memory storage on a 100% solid-state SDXC card of up to 512 GB for 60-800 hours of video recording storage, depending on the number of cameras and MDVR settings. Taxi camera systems or Limousine Camera systems differ in the number of cameras and camera types but share most other features of the passive systems.
Additional Risk relating to the single driver on their own exists in these private transportation environments that can often be minimized in part by the addition of a mobile vehicle-based video observation system that can accurately provide valuable video evidence when problems arise. Currently, there is no uniform designation for these systems, and their names often refer to their application.
In the Taxi markets, these solutions are commonly referred to as; Taxi cameras, Taxi Surveillance, Taxicab cameras, Taxicab surveillance, Taxi Cab cameras, Taxi Cab surveillance, Taxi Driver Camera, and Taxi Driver Surveillance.
In the Limousine markets, these solutions are commonly referred to as; Limo Camera, Limo Surveillance, Limousine Camera, Limousine Surveillance, Luxury Limousine camera, Luxury Limousine Surveillance, Executive Limousine camera, and Executive Limousine Surveillance.
In the Airport Shuttle markets, these solutions are commonly referred to as; Airport Shuttle Camera, Airport Shuttle Surveillance, and Airport Express Shuttle Camera.
A common concern for some taxi cab operations is that their drivers are transporting some customers for payment that never makes it to the company. The percentage of drivers cheating their companies of fares while using company assets, vehicles, insurance, and fuel can cut deeply into the revenue of the company, and for this reason, some fleet managers and fleet owners have turned to Live View & Live GPS Tracking to constantly monitor their driver's activities.
Drivers with a Video Observation Security camera system in their vehicle may be less likely to steal fares from their company or transport customers without activating the meter for other forms of payment directly to the driver that may include cash off the meter, sex, alcohol or drugs which could put your driver at risk of an accident and your company vehicle at risk of damage or confiscation in a criminal act. Simply knowing your actions are being recorded when in the taxi is a strong incentive to act professionally or at least in a way that will not cost you your job. Video surveillance systems can encourage safer driving habits and help deter unauthorized or criminal activities as these systems document the activities and increase the likelihood the offender or criminal activity will be revealed to the taxi company management.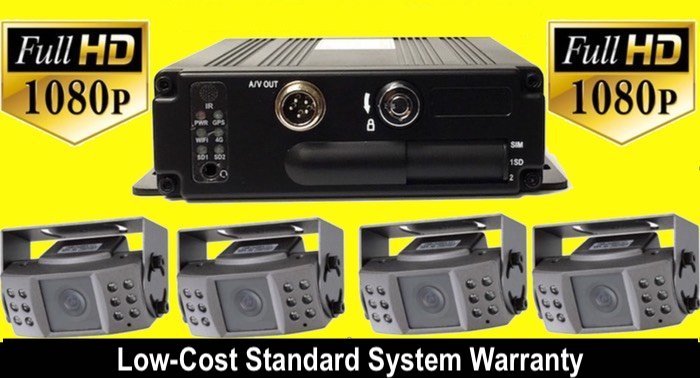 Basic Taxi & Limousine Vehicle Surveillance Camera System Pricing:
SD4FHD-1
...1-Camera In-Vehicle Taxi Cab / Limo Driver Safety Camera Onboard Vehicle Security Surveillance Mobile Event Recorder
$550 - $650SD4FHD-2
…2-Camera In-Vehicle Taxi Cab / Limo Driver Safety Camera Onboard Vehicle Security Surveillance Mobile Event Recorder
$650 - $750SD4FHD-3
…3-Camera Taxi Cab / Limo Driver Passenger Safety Mobile In Vehicle DVR Video Event Recorder Security Camera
$750 - $850SD4FHD-4
…4-Camera Taxi Cab / Limo Driver Passenger Safety Mobile In Vehicle DVR Video Event Recorder Security Camera
$850 - $950
Reseller Pricing Available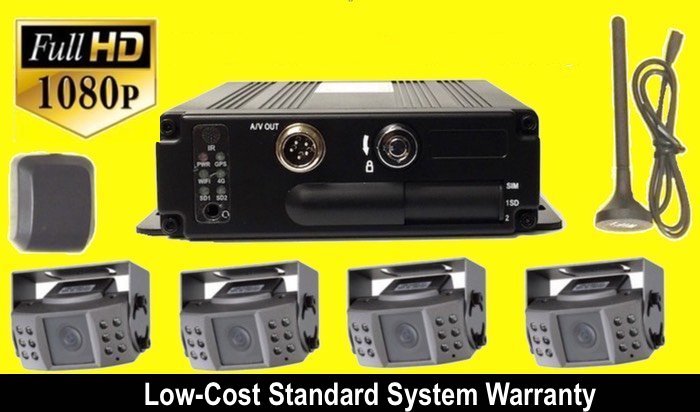 GPS & Wi-Fi Taxi & Limousine Vehicle Surveillance Camera System Pricing:SD4FHW-1
...1-Camera Taxi & Limousine Driver Safety Video Event Recorder Surveillance Mobile Video Camera
$650 - $750SD4FHW-2
…2-Camera Taxi & Limousine Driver Safety Video Event Recorder Surveillance Mobile Video Camera
$750 - $850SD4FHW-3
…3-Camera Taxi & Limousine Contractor in-Vehicle Video Safety System Security Video Surveillance
$850 - $950SD4FHW-4
…4-Camera Taxi & Limousine Contractor in-Vehicle Video Safety System Security Video Surveillance
$950 - $1,050
Reseller Pricing Available