Dangerous Driving Behavior Recognition via G-Sensor

What Dangerous Driving "Looks Like"
(Before they cause an accident, when there is still time to prevent loss of life and property)

Dangerous Driving Behaviors:
Hard Braking & Tailgating
Racing & Rapid Accelerations
Impact to Vehicle, Object or Crash
Distracted Driving & Texting While Driving
Erratic Lane Changes & Inability to Maintain Lane
Safe Driver Fleet Risk Management Solutions

A Fleet Driver Safety System with Dangerous Driving Alerts for active driver training to document & reduce dangerous driving behaviors as a driver safety event recorder, combined with a video surveillance system with high quality hardware, built in 3-Axis Accelerometer, to document Dangerous Driving Behaviors, unreported crashes and impacts or Eco-Driving violations, with built in Wi-Fi Wireless Automated Data Download support, 128 GB of solid state memory capacity supported, enhanced user features, and a longer expected service life for this pupil transit camera system or private fleet vehicle driver risk management safety surveillance applications where enhanced fleet driver safety monitoring is required.
The SD4mX Safe Driver Series fleet driver safety management system's mobile vehicle surveillance DVR has no moving parts in the recording mechanism, making it 100% Solid State Digital. This Safe Driver Training Device is able to endure very harsh environments making them well suited for high risk vehicle applications that require rugged solid state dependability for video evidence. The addition of the GPS to this student transportation camera system provides the speed of the bus or private fleet vehicle as well as playback with On Screen mapping. Added benefits of the Safe Driver Series over systems lacking this feature are the Driver Behavior recording aspects of the 3-Axis accelerometer, combined with the active driver alerts. Whether your primary concern is a driver flipping a vehicle in a hard turn or student transit camera surveillance for enhanced student safety this DVR has the tools to document dangerous driving behavior as well as help reinforce safer driving behaviors.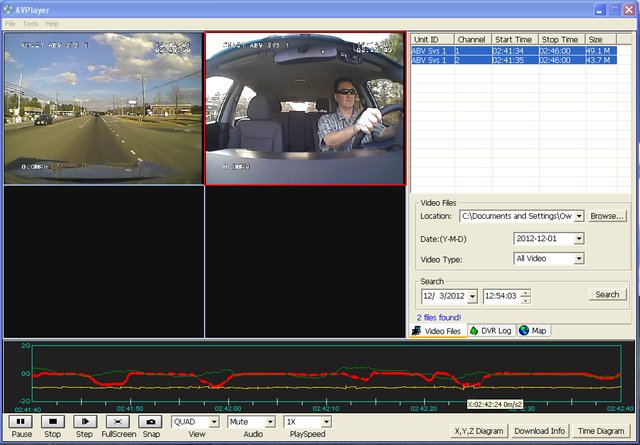 Wide chart deflections can indicate dangerous driving behaviors that may indicate a need for additional fleet driver risk management oversight by supervisors or in some cases management intervention in order to prevent those recorded and identified dangerous driving behaviors from creating a potential threat to life and limb, risk of capital investment in assets or liability lawsuits. Distracted fleet drivers often display hard braking as they are often not paying attention to the vehicle in front of them until they are about to hit it, hence the cause for the hard braking. Fleet driver risk management is enhanced when clear indications of dangerous driving behaviors can be identified prior to the accident scene reconstruction when it is already too late.

Fleet Driver Risk Management as well as Driver Safety Training of specialty vehicles like buses, trucks, concrete transports, fuel trucks addressees the fact many not them are top heavy, lateral inertia of even .6G can be dangerous, and incidents of this may be cause for concern and immediate attention to prevent loss of control, or possible rollover beyond the .6G threshold. Safe Driver Training Systems like the SD4mX can alert the drivers of their potentially dangerous vehicle operations w/o any need for supervisor or management review of discussion. Active alerts when they exceed safety thresholds of vehicle operation can immediately let a distracted driver know they are not in control of their vehicle before any review is performed on any documented events.